The GEF Community Grant Program provides fiscal support for innovative and creative projects that will increase knowledge and skills, expand perspectives, and enrich understanding.
---
Our goal is to encourage educators, within our schools and throughout the community, to find new ways to make learning dynamic and challenging, both for themselves and for their students.
Grants may be used for educational initiatives that fall outside existing budgets, such as:
Visiting authors and guest speakers
Seed money to help launch innovative new programs
Educational materials and equipment which support innovative programming
While we accept proposals for any amount, previous awards have ranged from $150 to $12,000.
For more information about our Grants Program, click here to view our brochure.
---
Grant Guidelines:
The GEF funds programs that:
Illustrate innovation and creativity,
Enrich educational offerings; and
Offer unique learning opportunities.
In addition, grant proposals should:
Have a clearly defined action plan,
Provide appropriate evaluation criteria; and
Demonstrate breadth of impact.
Grants are not intended to replace or relieve the existing responsibility for public funding of school programs, nor are they intended to replace regular budget growth and maintenance. Grants do not cover field trips OR salaries, stipends, or professional development costs for non-profit employees and volunteers.
Grants are made to nonprofit organizations. If you have an idea for an innovative program but are not affiliated with a nonprofit organization, please contact the GEF for assistance in finding an appropriate partner. Some examples of past partners for grants are our public schools, town departments such as Granby Youth Services and the Granby Senior Center, and nonprofit organizations such as Holcomb Farm, Granby Artists Association, and the Salmon Brook Historical Society.
All proposals are reviewed by a committee of the GEF's board of directors and voted on by the board. Awards are based on the merits of each proposal and the ability of the GEF to fund them. Partial funding may be awarded.
If your organization has been awarded a grant, please view our press packet which has guidelines for crediting the GEF as grant sponsor as well as our logo for use in your publicity.
---
---
Recent Grants:
The Farmington Valley YMCA (FVYMCA), which partners with numerous community organizations to provide specialty programs for children received a GEF grant of $2630.00 to purchase an inflatable Gaga Pit. Gaga, a game like dodgeball, is played in a fenced-in octagon called a pit with a group of individual players, with teams, or one-on-one. The FVYMCA has set up the Gaga Pit (at no cost) at school functions, community events, and local fundraisers, such as Celebrate Granby, the PTO Jog-a-Thon, and the Safe Grad Party. According to Brian Liss, District Executive Director of the FVYMCA, "I have seen firsthand what a positive effect the Gaga Pit can have on a community event. The game of Gaga allows children or young adults to play together without the label of being in a specific group. It allows a common opportunity to enjoy a simple game."
(Application submitted by: Brian Liss, District Executive Director of the Farmington Valley YMCA/YMCA of Greater Hartford)
---
Archived Grants:
2019
Grant Information Coming Soon!
2018
Grant Information Coming Soon!
2017
Grant Information Coming Soon!
2016
Grant Information Coming Soon!
2015
Spring 2015
One School, One Book:
Wells Road School was awarded $1,725 in grant monies to pilot this family literacy program that allows a school to create a school-wide book club. Students will have a shared reading experience with their peers, teachers, and family that aims at improving their attitude toward reading and their depth of understanding of the material. (Application submitted by: Anna Forlenza-Bailey – Wells Road School Principal)
Summer Reading Program:
A grant of $1,660 was provided to Kearns Primary School to develop and pilot a summer reading platform for the reading intervention/support program which will address the issue of "summer slide" in which students experience a decrease of abilities over the summer months. (Application submitted by: Sarah Schrandt – Kearns School Reading Specialist)
History Day:
GMMS was awarded $1,600 to establish a formal club which will participate in the national History Day Program which encourages exploration of local, state, national, and world history. This enrichment opportunity allows students to conduct extensive research while completing an in-depth project related to an annual theme. Students will then compete at regional and national competitions. This grant was made possible by the Cal Heminway Tribute Fund. (Application submitted by: Jodi Okenquist – GMMS History Teacher)
Winter 2015
GoPro Video Cameras:
$2,500 was granted to GMHS to fund the purchase of ten GoPro video cameras to be used by the school population. Video projects are currently used in all disciplines across the curriculum and, as more colleges and universities introduce the concept of e-portfolios to demonstrate and archive student work, the need for up to date technology that is available to all students grows. (Application submitted by: Casey LaPlante – GMHS Media Specialist)
Paleontology Lab:
GMHS was awarded $2,630 for the purchase of accurately recreated skulls from some of the most important hominids and primates in history. These supplies will make it possible for history students to perform experiments that previously required a trip to the American Museum of Natural History in New York City and will allow them a more in depth experience in the classroom. (Application submitted by: Joseph Jarvis – GMHS Social Studies Teacher)
Writing Workshop:
Writing expert Barry Lane spent a hands-on day at Wells Road School working with the fifth grade students on writing strategies including; content, elaboration and revision. He then conducted an after-school workshop for teachers from both Wells Road and Kelly Lane schools. A grant for $2,700 was awarded to fund this motivational and educational program. (Application submitted by: Cynthia Garrey – Wells Road Language Arts Teacher)
Ride to Read Program:
$1,200 in seed money was granted to the Granby Public School District to pilot this program which is designed to increase reading proficiency, brain function, and the ability to focus while incorporating physical activity. (Application submitted by: Patricia Law – GPS Head of Curriculum)
2014
Spring 2014
School Climate Book Club: Granby Memorial Middle School was awarded $4,000 to establish a school-wide book club to explore the themes of dignity, respect, ethical leadership, empathy, character, and the idea that everyone contributes to a positive school environment. All students and staff members at GMMS will read the book Wonder by R. J. Palacio which will then serve as a point of common ground throughout the school year for discussion groups, supplemental activities, and a culminating project. A book club for GMMS parents will be offered as well, extending the program into the students' homes.
Fall 2014
Snowshoeing Fitness Unit:
Kearns Primary School was awarded $1,440 to create a snowshoeing unit that would teach outdoor fitness techniques and encourage a positive attitude for healthy living through winter based activities. This grant was made possible by the Nannie Brown Tribute Fund. (Application submitted by: Karl Gates – Kearns Physical Education Teacher)
The Amazing Nano Brothers Juggling Show:
This program is an entertaining presentation of difficult science concepts in a unique format. Through the use of extraordinary visuals created through juggling and lighting, the students at Wells Road and Kelly Lane Schools were able to explore nanoscale science and technology. A grant for $1,630 covered presentations at each school. (Application submitted by: Judy LaRocque – Wells Road School Science Teacher)
Catapult Program:
Valley Pre-School was awarded $700 as seed money for the development of a puppetry unit as part of their after school Catapult Program. Students will be able to create puppets and backdrops as well as learn the intricacies of manipulating their creations during performances. (Application submitted by: Maureen Williams – VPS Board Member)
2013
Spring 2013
---
GMMS was awarded $1,500 in seed money to cover the start-up costs of the Sharing to Learn program. Through global education and service-based learning experiences, students will work collaboratively to solve real world problems on a global scale.
Wells Road Intermediate School was awarded $2,490 for the purchase of Google Chrome Books to prepare and provide the experience necessary for fifth and sixth graders to succeed in one to one computing as employed in the secondary schools.
GMHS's Japanese Exchange Program has been granted $750 in support of cross-cultural programs and experiences.
Fall 2013
Musical Technology:
The Music Department of Kelly and Wells Road Schools was awarded $654 for the purchase of an iPad that will give the staff, which travel between the schools and use a variety of spaces, the ability to enhance their curriculum. Using a variety of applications, it will be possible to: compose, edit, and share original compositions; practice reading and writing music; record performances for assessment; function as a music library and provide accompaniment for students during rehearsals; and even act as an instrument for students who are physically challenged.
Weather Stations:
The Granby Public School system was granted $3,000 to purchase two weather stations which have been installed at the Salmon Brook Ecology Center (located on the GMMS/GMHS campus) and at Granby's partner school in Hartland. These web-based stations will expand the use of the Ecology Center into all classrooms throughout the district, providing real-time data for use in a variety of curriculums including science, broadcast, and world language.
The stations include:
Thermometers, barometers, anemometers, hygrometers, and wind vanes. The data collected will support many areas of curriculum, including science, morning broadcasts, and world language. It will also expand the use of the ecology center as the data will be available to all of the schools in the district via the internet and will be on-going throughout the entire year. Click here for a live link to the Granby site.
Nutritional Education:
Holcomb Farm's Fresh Access Program, in partnership with the Granby Senior Center and Granby Memorial High School's Culinary Arts Program, was awarded $1,500 as seed money to establish a program of intergenerational culinary programming. These will include cooking demonstrations, nutrition education, and events that bring students and seniors together to improve the health, knowledge, and vitality of the community.
The following grant was made possible by the Nannie Brown Tribute Fund.
Read More
Percussion Program:
Valley Pre-School was awarded $400 to sponsor a percussion program which allows children to have a direct and hands on experience with a variety of cultures through music and a diversity of instruments.
Robotics Club:
Wells Road Intermediate School was granted $1,475 as seed money to establish a FLL Robotics team for fifth and sixth grade students. This activity will tap the critical thinking skills through fun "game-like" challenges and will provide the students with an opportunity to work collaboratively while creating solutions to real world problems.
2012
Spring 2012
Two grants were awarded to Granby school teachers to pilot the use of iPad technology in the district.
– Kristin LaFlamme & Susan Gleason received $960 to explore the daily use of iPads in both large and small group instruction using math, language arts, and logic applications.
– Diana Gascon, a remedial reading teacher at Kearns School, received $1,234 for the use of iPads during routine intervention services to improve students' fluency, phonemic awareness, and phonics.
– Mark Acquaotta was awarded $4,500 for the purchase and installation of a traverse wall at Wells Road School. This addition will greatly enhance the physical education curriculum by not only building students' upper body and core strength but also by emphasizing teamwork, communication, trust, and confidence. It will also align the physical education offerings with those of Kelly and Kearns Schools which already use traverse walls.
– Rob Faber of Wells Road School was awarded $3,000 as seed money to establish the Well-Fit Kids Club. This after school program will be available to all 3rd-6th graders and will promote healthy lifelong habits such as: fitness and athleticism, nutrition, focus, perseverance, and goal setting and achievement.
Fall 2012
Dr. Patricia Law, GMHS Principal, was granted $3500 to fund a series of Calvin Terrell workshops for students and parents, centering on building a safe and accepting school climate. The topics of bullying, prejudices, diversity, self-image, and choice-making were addressed.
Amy Lupoli, the Math & Science Consulting Teacher for Kearns School, was awarded $1158 of seed money to establish a Rekenereks Math System program which uses manipulatives to develop essential math skills.
2011
Spring 2011
–The first grant of the Spring 2011 cycle, in the amount of $1,800, was awarded to Citizens for a Better Granby, at the request of Rosemarie Weber, to aid in the presentation of the documentary film "Race to Nowhere". This documentary addresses the challenges and stresses facing children in the current educational and community systems, with the hope of opening dialogue among families, community agencies, and the variety of educators who touch the lives of children. A panel discussion will follow the screening.
–The GEF is pleased to present $1,300 to Granby Memorial High School, at the request of Susan Clark, to facilitate a student collaborative project in the development and distribution of student produced merchandise. Students in fine arts, business, technology, and family and consumer sciences will create, market, and distribute products, developing leadership skills and learning the steps of entrepreneurial business ventures. See items.
–The Granby Parks and Recreation Department, in conjunction with Valorie Hollister, has received $1,900 for materials to offer "Risas y Sonrisas" (Laughter and Smiles), an introductory course in Spanish language and culture. This afterschool program will offer third through sixth grade students at both Kelly Lane and Wells Road Intermediate Schools a multi-sensory approach to learning and retaining vocabulary and pronunciation with the introduction of practical conversation. Developed in consultation with Superintendent of Schools Alan Addley, this program will provide a basis for continued language development once students reach the formal language program in seventh grade.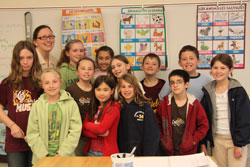 –The Social Studies Department of GMHS has received $7,118 for the purchase of 30 7" Android Tablet PCs to facilitate learning and the move to a paperless environment. Teacher Joe Jarvis indicates that the continued challenge of providing new textbooks would be virtually eliminated as current textbook databases allow educators eBooks customized for their classrooms. The PC based tablets would also circumvent the shortage of computer availability at the high school level, while allowing collaboration on projects and immediate interaction and assessment between students and educators.
–In the same vein, Kelly Lane has requested and received $2,140 for the purchase of five Kineo Android Tablets. These tablets are specifically designed for use by a younger student population and are loaded with interactive lessons correlated to Connecticut standards and Common Core curriculum. This pilot will be facilitated by Laurie Smith, Technical Specialist, and special education teacher Lindsay Madsen.
Fall 2011
– F.M. Kearns Primary School has received $2,300 toward the purchase and installation of a traverse wall to supplement the physical education program. Physical Education teacher Karl Gates explains that traverse walls not only enhance the upper body strength necessary to build a strong body and sound core for movement, but also increase confidence, balance, coordination, trust, teamwork, cooperation, problem solving, appropriate risk taking, communication, courage, patience, endurance, and leadership. All K-2 students will utilize the wall as part of the PE curriculum.
– The Town of Granby Senior Center has received $750 to help facilitate "Senior Voices
– Expressing Yourself Through Poetry", an interactive program geared toward seniors with no prior experience with poetry. Utilizing memories, current experiences, photographs, and even general class conversations, local poet Andrew Weil will encourage participants to explore and express through the written word. According to Sandra Yost, Senior Center Program Coordinator, adding a written word component to the existing Center's programming will "round out opportunities to participate and engage in meaningful interaction" and creative expression.
– The GEF is pleased to announce its grant of $2,000 to Valley Preschool to aid in the purchase of a performance platform for the playground. This open play space will "encourage children to use their imaginations, foster social interactions, and allow teamwork" while further incorporating the Connecticut Preschool Assessment Framework benchmarks into the VPS curriculum. Expected to last ten years or longer, this platform will allow an estimated 700 children and families to imagine and create and perform in a natural, outdoor environment that will extend the school's learning space. This request was presented by Director Kathy Jackson and Board Chair Kim Becker.
– The GEF is pleased to have provided a grant of $1,500 to benefit Granby fifth grade students who will integrate Language Arts and Social studies during a week-long in-school theater and literacy residency with a teaching artist from Hartford Stage. The Newbury Award winning novel My Brother Sam Is Dead is a story of personal and political conflict in the American Revolution as witnessed by a young man who places freedom before his family. Prior to reading the book, the students explore the central themes of the story through techniques such as improvisation, role-play, tableau, pantomime, and text analysis. The workshop engages students and taps all types of intelligence as the students work as an ensemble to consider character motivations, behavior and consequence. Upon completion of the residency, students read the novel and complete response journals. A past fifth grade teacher stated that "journal entries were detailed, thoughtful, and showed evidence of critical thinking and reasoning at a far more sophisticated level than previous classes." Teacher Meghan Bavol presented this grant request.
– Granby Memorial High School has received $1,000 toward "Teen Battle Chef", a leadership, teamwork, and culinary skill building program which teaches nutrition and an appreciation for diverse, healthy, and sustainably produced foods. Two teams of up to six youth collaboratively prepare a recipe from a designated culture, competing with students from area high schools. Students involved in this program present to their peers and members of the Senior Center, and have volunteered time at the Harvest Dinner at Holcomb Farm, utilizing their past program experience and skills to raise money for the Fresh Access program that supplies fresh produce to area social service organizations. This grant was presented by teachers Deborah Jacques, Baokhanh Paton, and Gina Magennis.
– GMHS has also received an additional $950 toward the continued publication of The Paw Print, the student-centered newspaper revived last school year. Per teacher Kelly Price, this publication provides an avenue for authentic learning through the brainstorming, research, writing, and layout collaboration required to publish a periodical. The Paw Print reaches a conservative estimate of 800 people between students, families, faculty, and local businesses.
2010
Spring 2010
From Farm To Table
Holcomb Farm Learning Center has received $5,026.40 to build a greenhouse to support farm-based education programs. Through a combination of formal school programs which include Granby, Hartland, and Hartford schools, preschool programs, farm camps, and community events, Holcomb Farm reaches approximately 1900 Granby students, 1350 Hartford students, and 800 local community members. Programs will take students from the planning and planting of gardens, through maintenance, composting, harvest, and preparation of healthy snacks from the produce grown. (Application submitted by Lucy Eyre Lindeyer)
And Then There Were Two…Robotics Clubs
The GEF has awarded Granby Memorial Middle School $1500 to fund Team #3146 Granby Grunts, registered with FIRST, a national program with over 90,000 student participants worldwide. Students work together, along with parent and community mentors, to build a robot in a six week timeframe. Culminating in a competition, this process essentially teaches students to create and run a small business. The "LEGO LEAGUE" program is designed specifically for middle school students, to increase interest in math, science and technology, and "to emphasize the idea of gracious professionalism as a way of doing things that encourages high-quality work, emphasizing the value of others and respect for individuals." (Application submitted by teachers Caron Kempf and Ann Buckley)
The GEF awarded $2420 to Wells Road Intermediate School for the supplemental purchase of eInstruction's hardware and software package "Classroom Performance System" (CPS). The software allows teachers to create curriculum relevant questions, while the radio frequency response pads and receiver unit allow students anonymity as they answer questions; results can be quickly compiled and addressed within the remainder of the lesson, ensuring that no student "leaves the class with an unsettling feeling of the chance of failure or uncertainty or with an inaccurate sense of comprehension." (Application submitted by Math teacher Rob Faber)
The Art of Welding
The GEF awarded $250 to the AP Art program at Granby Memorial High School for the materials and machine costs associated with a mig welding program. "We are providing the ambitious future artist an opportunity to experience a real working sculpture studio while learning about both welding and plasma cutting." This program would not have been possible but for the collaborative effort between a dedicated teacher and Mr. Brad McDougall's donation of time, labor and studio. (Application submitted by AP Art teacher Holly Hecht)
Fall 2010
– Statistics indicate that youth between the ages of fifteen and twenty-four watch two hours of television daily, yet read only seven minutes per day for pleasure. Less than one third of thirteen year olds read for pleasure at all. In an effort to enhance the school library environment and encourage pleasure reading, the GEF is pleased to grant $675 toward Wells Road Intermediate School librarian Kathy Waddington's request for an iPad eReader and its associated capabilities.
– The GEF is pleased to once again support Kelly Lane Intermediate School and Principal Bob Gilbert's request for funding toward the after school "Destination Imagination" program. Two student teams, with minimal assistance from a teacher coordinator and parent facilitators, work together for months to develop theatrical, structural, improvisational, scientific, or technical responses to challenge questions, problems, and situations. This process fosters creativity, teamwork, and problem-solving skills. A $1,500 grant will assist in volunteer training for team facilitators, materials, and registration for competitions.
– The Art Department and Media Center at Kelly Lane Intermediate School teamed up to turn in a request for $300 to fund materials for a mural in the Media Center. Local artist Kristen Cormier has volunteered her time to create a three panel mural entitled "Wonder of Reading"; students, under the volunteer supervision of Art teacher Katie Ransom, will create panels for each letter of the alphabet which will wind their way around the media center. "Artistic talent will be nurtured and rewarded with public display, and the rest of the student community will forever remember the process of adding art to the beautiful library space."
The Music program at Kelly Lane received $606.43 for the purchase of a Listening Center for the music room at the request of music teacher Nicole Lucas. Students in grades 3-6 will have the ability to record and self-evaluate musical performances beginning with recorder instruction in third grade and throughout all levels of musical instruction. The listening center will also provide the ability to connect to existing computer equipment allowing interaction with various media and projects.
– The GEF is also pleased to have contributed $350 toward the purchase of "Play Away" book technology for students at Kelly Lane. Per Principal Bob Gilbert's application, this simple technology allows struggling readers to enjoy peer level literature, motivating students to enjoy books.
– The GEF has renewed its support for the Hartford Stage In-School Residency for fifth grade students at both Kelly Lane and Wells Road Intermediate Schools with a grant of $1,500. Led by a Hartford Stage instructor, students explore the themes central to the story of My Brother Sam is Dead through the techniques of pantomime, role-play, improvisation, and tableau, reinforcing the skills of question and answer, inference, and ability to make predictions. Teacher Meghan Bavol's request will permit students to "examine the American Revolution in an engaging and dramatic fashion."
– Kelly Lane School, at the request of sixth grade teacher Cynthia Gordon, had received an additional grant of $2,420 for the supplemental purchase of Classroom Performance System (CPS), a hardware and software package that allows students and teachers instant response and evaluation via "clicker" response pads. This additional set will be dedicated to the sixth grade math program.
– The Granby Memorial Middle School Science program, at the request of teacher Sue Alender, has received $200 toward the supplementation of the weather curriculum and the beautification of the Ecology Center. A local artist will paint a mural on the ceiling depicting the three types of clouds: cumulus, cirrus, and stratus.
– The World Language program at Granby Memorial High School had received two separate grants. The first, requested by teacher Karen Richmond Goddard, provides $1,500 toward the purchase of 25 microphones and noise canceling headsets for listening and speaking/recording activities. This will provide real world radio broadcast and news programs to influence the speaking fluency and intonation of language students.
~ The second grant for the GMHS World Language program of $250, will bring a flamenco dancer to GMHS. Per the request of teacher Gina Magennis, approximately 350 students will receive historical and cultural information about flamenco, its development and cultural impact, prior to demonstration and lessons for all world language students.
– The final grant of the Fall cycle provides $500 to GMHS to revive the inactive Newspaper Club. English teacher Kelly Price made a strong case for not only the need to provide relevant, reliable news for the staff and student body, but for the authentic learning experience of publication in the areas of ethical journalism, research skills, writing process, layout, advertising, and sales and marketing. This eight page publication will be produced four times per school year.
2009
Spring 2009
– The World Language Department of Granby Memorial High School (GMHS), through the efforts of Spanish teacher Ellen Buda, received $2,532 for the purchase of ten iPods and related accessories. The use of such technology from a previous GEF grant has enabled language students to access their target language via real world radio broadcasts and news programs, textbook audio materials, and live class recordings. With this supplemental purchase, an entire class of 20 students will have access at once, practicing speaking skills as each self-records and engages in the valuable process of self correction as they review their work. This combined targeting of comprehension, fluency, and intonation will not only address the short term department goals of higher test scores, but will bring the students closer to a native-like tongue and foster longer term retention of the language as students move through their language careers.
– The Granby Youth and Granby Senior Services have been awarded $1500 to offer an intergenerational African drumming and dance program this fall. The Drum Unity Program will work with Granby youth to teach the history and art of the music and dance. Under supervision, the youth will then in turn instruct the adult participants. The two groups will collaborate to create a dance and drum presentation to perform as a finale. Not only will all participants be part of a creative process that celebrates diversity, but they will have the opportunity to develop and maintain friendships and connections they might not have acquired otherwise.
– The English Department and students of GMHS are the recipients of $1588 for the purchase of 10 digital flip mini camcorders and related accessories. The department strives to incorporate 21st century technology into the classroom; the addition of this technology allows the 730 plus students to quickly learn the arts of filming, editing, and sharing presentations through CD or posting to approved websites. As presented by Linda Touchette, English Department Head, this addition of durable goods will reach quickly across the entire student population, and well into the future.
– The Marquis of Granby Jr. Ancient Fyfe and Drum Corp has been awarded $2000 for the repair of existing equipment and the purchase of new drums. The Marquis brings to life the Revolutionary War period of our history, and this award winning group represents Granby at events all over the East Coast. The intangible benefits of formal leadership opportunities, mentoring of younger participants, collaborative work, and experience of public presentation are immeasurable. A note from the Marquis describes:
"You can really see in these photos how there is such a huge difference in size between drummers...the new drums we bought enabled the smaller guys to get up in the drum line and play! All of our old equipment was sized primarily for kids already in high school and since the minimum age is 10, that meant if you were a smaller kid wanting to play the drum you not only had to learn the instrument but you also had to wait while you grew enough to be able to handle it. The new drums have really meant a great deal to us and we can't thank you enough."
– The Social Studies Department of GMHS has been awarded $2082 for the addition of audio and video media capture devices as a tool for the creation of digital diaries. Similar to the Library of Congress' archive of the "Slave Narratives Project", students will choose a period of time in American History which particularly interests them, and create a character who will document the events of the time in a digital diary. Students will create, perform, edit, and publish these diaries to be used within the classroom as teaching tools. Social Studies teacher Joe Jarvis expects the benefits to be two-fold: first, the research, analysis, presentation, and technical skills of students will sharpen, and second, that by tapping into the particular interests of each student, the creativity and passions of the students for their chosen projects and subject matter will be contagious to students whose passions may lie elsewhere.
Fall 2009
– Kelly Lane Intermediate School, at the request of Principal Bob Gilbert, has received $1500 to introduce a new afterschool enrichment opportunity. "Destination ImagiNation" is an innovative organization that teaches creativity, teamwork, and problem solving to teams of students in more than 30 countries. The two teams will work to create solutions to Team Challenges, which can have theatrical, structural, improvisational, scientific, or technical focuses. Instant Challenges provide creative quick thinking exercises. Teams of seven students compete regionally with the goal of advancing to the Global Finals. The GEF thanks fifth grade teacher Sarah Chapple, who will coordinate the teams and parent volunteers in this unique experience.
– The GEF was pleased to provide a grant of $1500 to benefit Granby fifth grade students who will integrate Language Arts and Social Studies during a week‐long in‐school theater and literacy residency with a teaching artist from Hartford Stage. Taught by Cynthia Gordon for seven years, the Newbury Award winning novel My Brother Sam Is Dead is a story of personal and political conflict in the American Revolution as witnessed by a young man who places freedom before his family. Prior to reading the book, the students explore the central themes of the story through techniques such as improvisation, role‐play, tableau, pantomime, and text analysis. The workshop engages students, tapping all types of intelligence as the students work as an ensemble to consider character motivations, behavior and consequence. Upon completion of the residency, students read the novel and complete response journals. Ms. Gordon stated that "journal entries were detailed, thoughtful, and showed evidence of critical thinking and reasoning at a far more sophisticated level than previous classes. The depth of understanding and connection to the novel following this program was light years beyond anything witnessed in previous classes."
– In a separate focus of the fifth grade curriculum, students learn a basic understanding of a how a computer works and how information is processed. Current methods of learning, such as viewing a movie, visiting websites, and looking at computers, may not address the needs of students who learn best in a spatial or kinesthetic "hands‐on" manner. To address this need, Wells Road Intermediate School teacher Kathy Waddington proposed a program through which students will build a computer, then explain the process to their classmates. The GEF was pleased to grant $325 for the equipment for this program, and to facilitate Ms. Waddington's effort to provide a "new method of making learning dynamic, challenging, and hopefully stimulating an interest in lifelong learning."
– "Loss is a life experience that can be very troubling, not only to adults but children as well." So wrote Heidi MacDonald, Ph.D., School Psychologist at Wells Road Intermediate School in her grant proposal. Dr. MacDonald organized the "Live Strong Gang" three years ago as a way for students to find support in their peers who were experiencing grief. To date, the group has had fifteen members who have lost a parent or sibling. It has become increasingly obvious, through the requests of students and families, that more information is needed to better support all students who experience loss and the adults who are in their lives. The GEF was pleased to grant $500 to establish a lending library which will assist not only the existing group, but those who may not be comfortable in a group setting. It will also allow faculty access to materials which will allow insight into grief and teach techniques that may help students and families on a day‐to‐day basis.
– In his grant proposal, Physical Education Teacher Karl Gates wrote that "kindergarten through second grade levels are the most critical when it comes to physical and mental growth." Bowling, enjoyed by 50 million players in the United States alone, can greatly improve hand‐eye coordination, mental processing, and body movement through muscular development and spatial and self awareness. For those reasons the GEF has granted $600 to F.M. Kearns Primary School, for the purchase of carpet lanes, balls, pins, and related instructional materials.
– Since 2006, Granby Memorial High School (GMHS) has developed a partnership with Bloomfield High School through the state of Connecticut's Vanguard School Initiative. One facet of this relationship was participation in the Power of Agriculture Lecture Series , which consisted of monthly lectures and luncheons for students and community members. The lectures, hosted by the two schools, focused on "how individuals, alone and in small groups, can take action on seemingly intractable environmental issues" such as sustainability. These lectures were presented by professional scientists, policy makers and journalists who are nationally recognized as experts in this field. The luncheons were prepared by GMHS culinary students using locally grown produce. Small groups of students and community members worked collaboratively on structured activities to explore each topic. To support the GMHS commitment to a learning community committed to community involvement, and to further the Vanguard mission of promoting diversity and awareness, the GEF is pleased to grant $735 for continued participation in the lecture series. The GEF would like to recognize GMHS science teacher Baokhanh Paton for this grant proposal and both Mr. Paton and GMHS culinary teacher Deborah Jacques for their continued involvement.
– The newly formed First Robotics Club of Granby Memorial Middle and Granby Memorial High Schools has received a grant of $3000 to help fund participation in the First Robotics Program and National Competition. Granby math teachers Caron Kempf and Margaret Bastiaanse, science teacher Sue Alender, and technology teacher Tim Barnett see Robotics Club as a "tremendous platform for interdisciplinary curriculum opportunities in the future between math, science, and the unified/practical arts." These four advisors have gathered students passionate about this endeavor and partnered them with parent, past GMHS student, and community mentors with backgrounds in engineering, programming, and finance. Together they will work with real life applications of math, science, technology, project management, and team building to build a common kit robot in a six week timeframe which they will take to national competition in April. For participation in the First Robotics program, schools receive licenses for more than $60,000 worth of application software which will be available to all students.
2008
Spring 2008
– Bob Gilbert, Principal received $1,214 for a Kelly Lane School lighting console. There is currently no appropriate lighting system at Kelly Lane to support drama, music and cultural arts programs. Total cost of upgrade is over $10,000 with other funding coming from PTO, and Kelly Kids Care.
– GMHS Language ipods Cindy Anderson, World Language specialist awarded $2,494 to fund the purchase of ten ipod nanos, recorders and headphones to replace present cassette technology in GMHS language classes.
– Early Childhood Council Janet Ford awarded $990 to put on four parenting workshops.
Fall 2008
– The 6th grade class at Kelly Lane Intermediate School has historically been too large to participate in the science programs of the West Hartford Children's Museum. The creative thinking of teacher Matt Pinckney and his subsequent award of $1,366 have changed that. Having recently studied a teaching technique called "carousel" Mr. Pinckney proposed splitting the class into three sections; each section will attend one of three classes on polymers, chemical technology, or the properties of water molecules. Each section will then be required to summarize the main points of its class, presenting the information on the following day to the other two sections. Not only will all students ultimately receive instruction on all three topics, but each will be forced to process information on a high level in order to act as a peer tutor when they teach what they learned in their particular hands on , alternative setting. To quote Mr. Pinckney, "When learning is focused, the students' motivation to learn is emphasized."
– Katie Ransom, Art teacher at Kelly Lane Intermediate School, received $1,175 to bring interactive theater to Kelly Lane. Approximately 350 students in grades 3-6 will participate in performances and further develop their appreciation of art and knowledge of art history through the use of music, costuming, mime, puppetry, and acting, to tell the story of either artist Alexander Calder or Pablo Picasso. "The most compelling aspect of the 'Calder Re-Wired' and 'Picasso People' programs are their creative combination of art appreciation with live theater," stated Mrs. Ransom. This nationally recognized performance should be an exciting experience for all involved.
– The Granby Senior Center received $1,200 to present a program called "Art Is Ageless". This program will encourage older adults to explore the visual arts in a small class setting through visual and tactile mediums such as watercolors, digital photography, and beading. The classes will be taught by members of the Granby Artists Association. Sandra Yost, program director of the Granby Senior Center, cited several recent studies which have linked involvement in the arts to better overall health and lower incidents of depression and loneliness in seniors. Perhaps the most compelling point of this award is the collaboration of community groups "to enhance and improve the quality and successful aging of the citizens in the Granby Community. This is an example of Granby working together to support the well-being of one of our most important assets, senior citizens, within our town" says Yost.(photo from l.) Carole Day, David Emery, Sandra Yost and Anne Dixon. Photo by Shirley Murtha